Connected TV Platform
Drive Measurable Business Outcomes With the Right CTV Ad Platform
The future of TV advertising lies in connected TV. Powerful branding, fast results, and massive growth are possible as CTV platforms connect marketers with engaged audiences using precision targeting and performance attribution. The only question is which platform to partner with.

At tvScientific, we've built the first, most sophisticated CTV advertising platform designed to help you meet performance marketing objectives. Our easy-to-use self-serve platform combines integrated media buying and measurement to give you full control over your campaigns, while sophisticated optimization technology improved ROAS by as much as 50%. To learn more about what a powerful connected TV advertising platform like ours can do for you, click the link below.
What Is a Connected TV Ad Platform?
A CTV advertising platform is an integrated technology system designed to help advertisers manage streaming media campaigns across smart TV inventory. CTV ad platforms streamline media buying through supply-path optimization, giving advertisers access to AVOD inventory across all major streaming services through a single interface. A CTV platform differs from an over-the-top (OTT) advertising platform in that it can curate inventory from secure connected TV devices, streamlining attribution while eliminating erroneous measurement spoofing issues associated with external media devices. CTV platforms can also handle more traditional OTT advertising when desired.
Choosing a connected TV ad platform also offers a number of advantages over DSPs and less sophisticated self-serve platforms, among them complete transparency and science-driven attribution and optimization. With hundreds of services on the market and more arriving every day, advertisers stand to benefit more from targeting audience segments across multiple streaming providers. CTV platforms also ensure superior performance by optimizing to hit CPA and ROAS goals at the campaign level.
The right CTV platform offers these advantages over traditional OTT advertising media.
Attribution &
incrementally
Who Are CTV Platforms for?
CTV platforms are for everyone and every budget. Historically, television advertising was reserved for big brands with money to burn. Now, in the era of streaming television, TV is becoming democratized. This shift is allowing mid-sized advertisers and even small businesses to enter the game and experience the performance marketing potential of television. Now more than ever, marketers are investing in CTV and OTT advertising strategies. They are expanding advertising budgets, engaging in incrementality testing, proving ROI, and developing lasting partnerships with CTV platforms.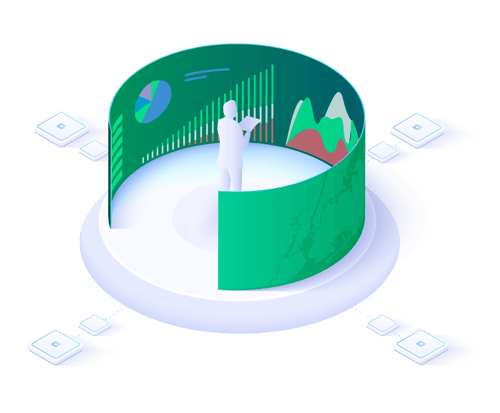 Want to know more about how marketers are using connected TV ad platforms today?
Want to know more about how marketers are using connected TV ad platforms today? We surveyed 500 senior marketing executives to learn just that. We take a deep dive into how OTT and CTV advertising factor into modern marketing strategies in this report.
Finding the Right Connected TV Advertising Platform For You
If you're ready to take advantage of the power of CTV advertising, consider tvScientific. Ours is a technology platform first, applying radically transparent data to deliver advertiser ROAS (we are not an opaque agency or "TV ad network"). This means marketers can use our platform to execute and control performance TV ad campaigns like search and social, in a transparent, data-driven way. Our platform provides all of the control and data transparency that marketers need in order to trust the attribution + ROAS calculation, and our business model is aligned with our customer's interests (we are not a buy low, sell high network).
From a technological point of view, tvScientific is unparalleled. We connect the dots between TV ads delivered and business outcomes on a 1:1 deterministic basis (no panels or fuzzy math), in a way that lets marketers see the entire customer journey from TV exposure to order ID, and everything in between. We disclose actual media costs and report on campaign performance at a detailed level.
Are you ready to tap into the power of performance TV and partner with the leading CTV platform? Take the first step by getting in touch today.
Learn More About CTV Advertising + Attribution