Lessons from the best in the business on how to command attention and increase sales.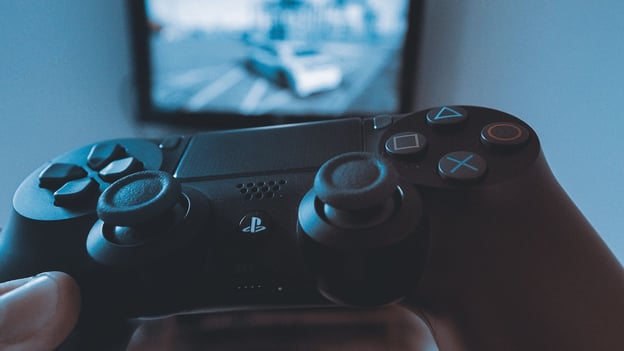 The video game market is projected to become a $435 billion industry by 2028, and while the audience of potential gamers continues to grow, so too does the number of offerings across gaming consoles, mobile devices, and personal computers. Game developers aren't just competing for their audiences' hard-earned money — they're also competing for their time and attention. Knowing how to leverage a game's distinct value proposition and convey the right emotion to your audience can mean the difference between blockbuster sales and indifference.
Whether they're trying to establish new intellectual property or are simply trying to move more hardware, the best video game marketing campaigns know that the key to success is to develop a narrative and then invite the player to become a part of it. Read on to discover what ad campaigns truly resonated with players, leading to increased revenue and worldwide acclaim.
Jump to a section…
Sega Genesis: "Genesis Does What Nintendon't"
Nintendo Wii: "Wii Would Like to Play"
PlayStation 3: "It Only Does Everything"
The Best Video Game Marketing Campaigns of All Time
Sega Genesis: "Genesis

Does What Nintendon't"
During the 1980s, Nintendo cornered the console market. Thanks to stellar marketing and a shrewd approach to retail, the Nintendo Entertainment System was a smash hit with children in North America, and soon became a household name.
Around the same time, publishing rival Sega tried to get its foot in the door in North America with its Master System, but there was no way it could compete for mindshare against the likes of mascot Mario. It seemed impossible for an upstart company like Sega to dethrone Nintendo, so when it was time to market its 16-bit successor, Sega decided to go right for the jugular.
The Sega Genesis (or Megadrive as it was known outside of North America) boasted arcade-quality graphics as well as stereo sound, and was far more advanced than the NES when it launched in Japan in 1988. Sega of America leaned heavily into its technological prowess for the 1989 North American launch with marketing buzzwords like "blast processing," accompanied by its "Genesis Does What Nintendon't" gaming advertisements.
The ads featured a montage of recent arcade hits, running natively on Genesis hardware, along with one of the catchiest jingles in advertising history — just try to watch the video and not get it stuck in your head. The key takeaway? Nintendo games are children's toys, while Genesis had real video games.
Video game marketing tends not to be as cutthroat these days, but at the time, the ad campaign was a huge coup for Sega, at least in North America. By the time Nintendo released the Super Nintendo in 1991, Sega of America had already sold 3 million units. Sales data during that era is spotty, but most records show yearly North American Genesis sales keeping pace with — and sometimes exceeding — Super Nintendo sales, eventually reaching over 30 million units sold by the end of its lifecycle.
Key takeaway: Sega differentiated itself from the competition by leaning into its more powerful hardware.
Nintendo Wii: "
Wii Would Like to Play"
The Nintendo Wii was a runaway mainstream success, selling over 100 million units to a wide audience of families, seniors, and hardcore gamers alike. But success wasn't always certain. While Nintendo has always carved out a niche for itself in the handheld space, the company saw diminishing returns in the home console market since the NES.
Plus, the Wii was strange, even beyond its name. The small, rectangular white box was vastly underpowered compared to the competition, and its default controller looked more like a TV remote than a standard gamepad. How do you market such a departure from the gaming landscape and ensure it lands with an audience beyond your core, dedicated fans?
For Nintendo, the answer seemed easy: pack in a disc filled with sports everyone already knows and show them how fun it is to play. In its "Wii Would Like to Play" ad campaign, a pair of Japanese businessmen show up at a random family's house in middle America to bond over a few rounds of bowling and tennis, using the motion sensors embedded within the Wii Remote to control the on-screen action. The entire value proposition is crystal clear within two minutes: This is a console for everyone, and playing is as easy as picking up a tennis racket and giving it a swing.
Thanks to this ad campaign, the Nintendo Wii was a hot commodity from its 2006 launch until Nintendo discontinued the console in 2013. Reports of holiday shortages extended out for over a year after its release.
Key takeaway: Nintendo provided a clear and distinct value proposition by showing how easy and fun it was to play games with family and friends.
Gears of War: "Mad World"
Microsoft had a tall order when it came time to market Gears of War for its new Xbox 360 console. New IP is always difficult to sell, especially when sequels in established franchises tend to be safer bets. A new shooter IP is even tougher, as games like Activision's Call of Duty and Microsoft's own Halo series tend to soak up all the attention. Something needed to be done to ensure Gears of War stood out in a crowded holiday release schedule while establishing its own identity.
Microsoft partnered with McCann Worldgroup and director Joseph Kosinski (who would direct feature films like Tron: Legacy and Top Gun: Maverick) to assemble a brief one-minute trailer that captured the "destroyed beauty" of its world and the desperate struggle of its hero. Crafted out of in-game art assets and set to Gary Jules' down-tempo cover of "Mad World" by Tears for Fears, the ad shows a lone, muscular soldier wandering alone through a ruined city until he is overwhelmed by a mysterious alien force. The screen then cuts to black and fades in on the title.
The ad was an instant viral hit (a YouTube re-upload of the trailer has over 13 million views and counting), helping the game become the fastest-selling Xbox exclusive in history when it launched in 2006. While the game has become a multi-million dollar series in its own right, the video game marketing campaign was so successful that it inspired a legion of copy-cats. If you ever watch a trailer for a video game, movie, or television show and notice a somber rendition of a pop song playing over the action, you can thank Gears of War.
Key takeaway: Microsoft flipped convention on its head, taking an unexpectedly somber and artistic route to advertise its upcoming third-person shooter.
PlayStation 3: "It Only Does Everything"
Despite finding massive success with the PlayStation 2, Sony's follow-up console had an image problem before it even hit the market. Microsoft already had a year-long headstart with its Xbox 360, and the Nintendo Wii's value proposition was made immediately clear through a brilliant series of ads. And both competitors were markedly less expensive than PlayStation 3's $600 USD price tag. Remarks from then-CEO of Sony Interactive Entertainment Ken Kutaragi that he hoped consumers would "work more hours to buy one" certainly didn't help the public perception that the console was out of reach for many.
Sticker shock, a lack of must-have games, and Sony's aloof marketing approach made Sony's console fail to connect with all but the most ardent PlayStation fans, leading many PlayStation 2 adopters to hold out for a price drop — or ignore it entirely. Initial sales were much slower than the competition, and Sony had its work cut out to overcome the stuffy and elitist way it had initially presented itself.
In 2009, Sony partnered with Deutsch LA to put a relatable — and comical — face to the brand with its "It Only Does Everything Campaign." Enter Kevin Butler: the fictional Vice President of various departments within PlayStation, with titles like Director of Game Accuracy, Chief Weaponologist, VP of The Cold Hard Truth, and whatever other non-existent departments Sony needed to sell its games and hardware.
Butler was smarmy and sarcastic, but most importantly, he was charming. Butler wasn't afraid to roast real-life MLB players, mock internet rumor mills, or provide dating advice to PlayStation fans. He was so successful at putting a much-needed human face on Sony's monolith of a console that Sony kept the ad campaign running for over two years, even bringing the fake VP on stage during its E3 2010 press conference.
Combined with a much-needed price drop, Kevin Butler marked a turning point in the beleaguered console's fortunes, helping the PlayStation 3 reach nearly 90 million units sold and eventually outselling the Xbox 360 by the time it was discontinued in 2016.
Key takeaway: Sony put a fictional face on its console, injecting personality and charm into its expensive black box.
Merge Mansion: "He Is Alive"
With thousands of new apps released every day on iOS and Android and an audience with a steadily declining attention span, getting noticed is a monumental task for mobile game developers.
With these enormous roadblocks in mind, Metacore needed something to capture and convert the attention of its audience away from games like Candy Crush Saga, Gardenscapes, and their countless clones toward downloads for its latest puzzle game, Merge Mansion.
The story behind Merge Mansion is simple. As a young woman named Maddie, you work with your grandmother to clean up her old mansion. You finish chores by solving puzzles, which unlock new rooms and discover the mysteries within.
Metacore didn't just lean into the mystery angle with its ad campaign; it drove a semi-truck right through it. One video in particular features a series of perpetually escalating scenarios as Maddie arrives home sobbing in her wedding dress, only to discover her house is on fire. She then helps her grandmother rebuild her mansion until the ad smash cuts to a scene where her grandmother is carted away by police — but not before Maddie sees her grandmother gives a wry smirk and places her hand on the police car window, the words "He is alive" scrawled on it with black ink.
The video is a non-stop series of wild left-turns, and it exploded across social media. A tweet featuring the above video garnered over 12,000 retweets and 643,000 views, and subsequent videos other users discovered on the developer's YouTube account performed similarly.
The ads were a hit, driving the social media conversation for days and transforming what would have likely been an overlooked mobile puzzle game into a success. Since its release in September 2020, Merge Mansion has achieved over 10 million downloads and over $40 million in player revenue.
Metacore continues to experiment with its unorthodox approach to advertising. They recently partnered with ad agency Wieden+Kennedy on a series of live-action ads starring Kathy Bates and Grace Rex. Their "Grandma Getaway" ad on YouTube has hit 4.7 million views since its December 2021 publication.
Key takeaway: In order to stand out in a crowded market, Merge Mansion took risks with its advertising by presenting an escalating cascade of ridiculous scenarios.
While many of these ads aired on connected TV (or even in movie theaters), the adoption of CTV has exploded in recent years, with over 56.7% of viewers opting to watch content via streaming apps. Many of these viewers are engaging with CTV through their game console of choice, and ignoring this blossoming market means missing out on a key segment of your audience. Read our report How CTV Advertising Powers The Performance TV Revolution and discover how to leverage the power of CTV for your video game marketing campaign.