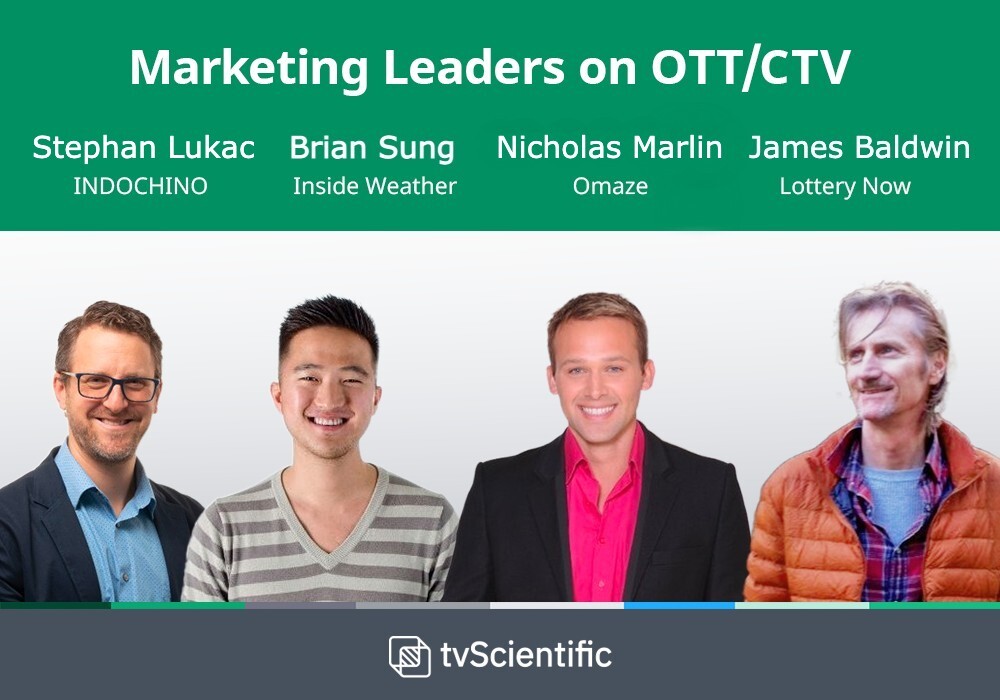 OTT/CTV media is increasingly essential to the modern marketer's arsenal, but the old TV playbook hardly applies. Today, 80% of U.S. households have CTVs and a full 60% of viewing is delivered via streaming services and apps. Smart marketers have been adjusting to this seismic shift.
In this article, tvScientific asks four marketing leaders for best practices, tips, and insights that have allowed them to leverage CTV successfully. Keep reading to discover how each is tapping into the power and impact of TV advertising with the discipline and ROI of using CTV as a performance channel.
Different Ad Types Perform Differently Across Channels
James Baldwin of Lottery Now
James Baldwin is Co-Founder and Head of Growth and Acquisition at Lottery Now, an innovative offering that allows consumers to buy lottery tickets on their mobile phones. Baldwin is no stranger to performance marketing, with more than 15 years in digital leadership roles across all aspects of Growth and Global Performance Marketing. Not surprisingly, Baldwin honed in on the benefits of using CTV to test quickly and iterate.
CTV and Agility
"Changing consumer behaviors and data restrictions are driving tectonic shifts in mobile advertising," said Baldwin. "Achieving efficient growth in this environment requires a lot of agility and more hands-on refinement from growth teams and their partners.
"Campaign trajectories are often short, so learning fast and iterating quickly has been a key to our success. Much of the TV/CTV/OTT learning that we've had to develop follows the same trend."
Stephan Lukac of INDOCHINO
Stephan Lukac, Marketing Director at INDOCHINO, sees the same benefits of a scalable test and learn approach. INDOCHINO brings the made-to-measure apparel experience direct-to-consumer, creating a superior alternative to off-the-rack clothing at ready-to-wear prices. But as consumers emerged from the end of isolation mandated by the pandemic, would there be demand for putting on nice clothes again and leaving sweat pants behind? The ability to test before committing an entire budget was key.
A Scalable Solution
"The last two years have been a roller coaster ride in the media planning space," said Lukac. "Starting with the contractions and media reallocations at the start and during the first year of the pandemic, our focus was to buckle down and weather the storm. As we emerged in 2021, much of our media was focused on performance tactics, and this became a central component of our media strategy to capture the pent-up demand."
"While we rode the wave of demand, we knew that this wouldn't last forever and needed a solution to start to scale up demand/ brand-building efforts but in a scalable 'test-and-learn' approach. Traditional linear TV required too long of a lead time and a heavy financial investment that we weren't eager to explore, plus the ability to measure the success of this investment wasn't as real-time as performance media. The team at tvScientific solved both of these challenges, providing a scalable solution that allowed us to slowly scale up our investment, all the while demonstrating the effect of our investment via pixel-based tracking, frequent optimizations, and lift studies. All of this cemented our commitment with tvScientific as a partner to build and grow our CTV channel."
Baldwin agreed that testing and measurement early pays big dividends later when campaigns ramp up to higher spending levels.
"Testing, measurement, innovation. This cycle should be as streamlined as possible to learn quickly at lower spending levels," said Baldwin. "That investment in refinement and learning will inform spending at scale. Most importantly, those innovation cycles are more than paid for in ROAS and CAC savings when scaling."
Nicholas Marlin of Omaze
Nicholas Marlin is VP of Performance Marketing at Omaze. Omaze is an online fundraising platform that's reinventing charitable giving by making it fun and easy for anyone to give. Omaze offers dream-come-true experiences online that anyone has the chance to win. But notwithstanding a unique offering, he and his team face the same UA challenges all marketers have. With CTV, he focuses on the distinctions between different VOD platforms and the need to understand the performance and measurement of each provider.
All VOD is Not Created Equal
"All VOD is not created equal," offered Marlin. "Understanding the various delivery mechanisms and how to measure performance between them has been an important part of our success with CTV media buying. Measurement is also much more complex, which requires us to rely on both internal data as well as partner closely with tvScientific to triangulate performance."
Brian Sung of Inside Weather
Brian Sung, Head of Marketing and Sales at Inside Weather, also focused on the benefit of tracking CTV performance and credited the tvScientific data science team.
Tracking and Data Science
"tvScientific provides innovative tracking that makes it easy to understand your CTV campaign performance and make the necessary optimizations. Getting started is simple, and tvScientific is a great partner if you're interested in testing CTV and diversifying your media mix," said Sung.
Different Ad Types Perform Differently Across Channels
Lottery Now's Baldwin offered that the focus on data and performance needs to extend to an appreciation for the fact that different ad creative and ad types will perform differently across different channels. It's an important insight marketers need to consider when embarking on CTV advertising for the first time.
"One critical factor is proper understanding of the ad creative," said Baldwin. "While brand messaging might impact customers in similar ways across channels, the ad creative that presents it often needs to be very different. Our best-performing ads on OTT/CTV typically don't perform as well in other channels and vice-versa.
"We're seeing success with 30-second approaches using both animation and live-action, but each approach is high quality, with high production value. Production quality has proven to be important, particularly on CTV."
How Can We Help?
Are you interested in learning more about OTT/CTV advertising? When it comes to connected TV media buying, tvScientific is at the forefront of the industry. Our proprietary performance advertising platform was the first built specifically for the CTV landscape, combining the reach of television with in-depth attribution and analysis that modern advertisers need to stay ahead. If you're looking for a partner to optimize your OTT media buying strategy, we're here to help! Our experts are ready to help you learn more about the advertising potential of the CTV ecosystem.